Back to blogs
Previous
Climate Tech Jobs: 10 Sites to Find Jobs in Climate Tech
How to Find a Software Engineer Job in Climate Change
Where To Find Data Science Jobs in Climate Tech
How to Get a Job at a Digital Marketing Agency in Conservation Tech
Invasive Species: Why Are There No Startups?
Arcadia Science is disrupting science
Colossal Biosciences: Work For A Biotech Pioneer
Colossal Biosciences: Work For A Biotech Pioneer
3 min read 02 Mar, 2023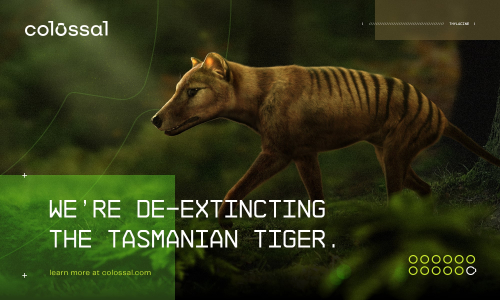 What are the aims of Colossal Biosciences?
Colossal Biosciences is a biotechnology and de-extinction company with aims to resurrect the Wooly Mammoth, Tasmanian Tiger and the Dodo. Recently Colossal Biosciences have also expressed an interest to contribute to the conservation of the Sumatran Rhino using advanced reproduction technology. Colossal Biosciences hopes to have the first wooly mammoth hybrid calves by 2027 with a plan to reintroduce them to their historical range in the Arctic Tundra.
Who are the founders of Colossal Biosciences?
Colossal Biosciences was founded by George Church and Ben Lamm in 2021. Dr. George Church is a genetics professor at Harvard Medical School, known for his pioneering work in gene editing and synthetic biology. He has co-founded several biotech companies and is renowned for his contributions to the field of genomics. Ben Lamm is a serial entrepreneur and has previously co-founded several technology companies.
How is Colossal Biosciences funded?
Colossal Biosciences recently raised $150 million led by the US Innovative Technology Fund. Much of this will go towards their new Avian Genomics Group to support their aims in bringing back the Dodo. Their previous round of funding was $50 million and was led by Thomas Tull and At One Ventures.
What skills do you need to work at Colossal Biosciences?
Embryologist
For Embryologist roles you will need:
MS/DVM/PHD in biological sciences, veterinary medicine, bioengineering, molecular biology, genetics, or any science related field.
At least three years of experience in the generation of genetically engineered model organisms (nuclear transfer, pronuclear and cytoplasmic injections of one-cell zygotes, electroporation of embryos, and ES cell injections blastocysts)
Strong expertise  in nuclear transfer,  microinjection and cryopreservation and reproductive biology workflows 
Scientist in Genome Engineering
For Scientist roles in Genome Engineering you will need:
PhD/MS in synthetic biology, bioengineering, molecular biology, genetics or related field is required, or 3+ years hands-on expertise in genetics and genomic manipulation
Solid understanding and hands-on experience with current editing techniques, including CRISPR-Cas9
Experience with cell culture, DNA/RNA transfection, bacterial culture, recombinant DNA cloning techniques, primer design and PCR, gel electrophoresis, nucleic acid extraction and purification
High throughput screening experience or automation methods
NGS library prep, immunostaining and flow cytometry experience
Animal tissue culture experience
Current experience with next-generation editing tools
What are the backgrounds of scientists at Colossal Biosciences?
Colossal Biosciences employs a large team of scientists from a variety of scientific backgrounds. If you're looking to get a job at Colossal Biosciences it is interesting to see the educational and career history of some of the scientists that work there. Scientists at Colossal Biosciences have backgrounds that include:
Colossal Biosciences Twitter